The products listed here are available for sale only to commercial dealers and wholesale customers who purchase CB Tech products in substantial quantities.
Easy, Affordable Water Filtration
Low cost and ease of use make the Water Guardian MPADC a great entry-level countertop drinking water system.
Replacement Filter: CBTAD
The Water Guardian MPADC couples high filtration performance with affordability and ease-of-use, making it a great entry-level countertop drinking water system.
The MPADC sits on the countertop next to the sink, connecting to the existing faucet with a hose and a chrome diverter valve. Push-button operation allows you to switch from filtered to unfiltered water quickly and easily, and its design offers portability and easy installation, making it suitable for the home, office, or RV.
The filter housing is constructed of high-impact polypropylene plastic and the system is tested to meet stringent NSF/ANSI certification standards. With a Lifetime Warranty on the system housing, the CB Tech Water Guardian MPADC offers cleaner, cost-effective, and convenient drinking water.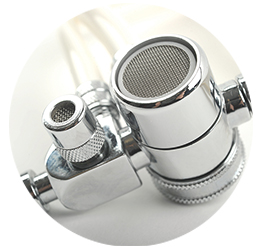 Countertop water filter that easily attaches to a standard faucet without tools
Employs submicron (0.5 micron) solid carbon block technology with easily replaceable filter cartridge (model CBTAD)
Uses mechanical filtration, electrokinetic adsorption and chemical/physical adorption
Tested and certified under NSF/ANSI Standard 42 (Aesthetic Effects), 53 (Health Effects), and 401 (Emerging Compounds) to treat a broad range of contaminants (see product Performance Data Sheet for specific contaminant reduction information)
Long filter life – Capacity is approximately 750 gallons or about 1 year of normal use
Lightweight and portable
Comes standard with one filter cartridge
Extensive owner's manual with detailed instruction for installation and troubleshooting
Lifetime Warranty* on housing and 1-Year Warranty on all accessories (*warranty requires annual cartridge replacement)
Great for use in homes, apartments, RVs, boats, offices, health clubs, etc.
Economical to own – Operating cost is 9¢ per gallon ($69.95 filter cartridge MSRP ÷ 750 gallons)
| | |
| --- | --- |
| Model Number | MPADC |
| MSRP | Please contact for pricing |
| Replacement Filter Cartridge | CBTAD |
| Description | Countertop carbon block water filter |
| Filtration Technology | Activated solid carbon block |
| Particle Retention Size | 0.5 micron (submicron) |
| Housing Composition | Polypropylene plastic |
| Inlet | Supply line connects to existing faucet via included diverter valve; 3/8" stem |
| Outlet | Outlet connects to existing faucet via included diverter valve; 1/4" stem |
| Approximate Flow Rate @ 60 psi | .75 gpm |
| Maximum Working Pressure | 100 psi/8.8 kg/cm2 |
| Minimum Working Pressure | 30 psi/2.1 kg/cm2 |
| Maximum Operating Temperature | 100°F/38°C - for cold water use only |
| Minimum Operating Temperature | 32°F/0°C - for cold water use only |
| Compliance Certification | NSF/ANSI Standards 42, 53 & 401 |
| Manufacturer Warranty | Lifetime on housing; 1 year on accessories |
Need a Customized Filter?