High-Volume Water Processing
The CB Tech WaterSource is a heavy-duty water treatment system designed for military or emergency use,
coupling high-volume water processing capabilities with significant chemical and pathogen removal. Designed
for operational versatility, the WaterSource can be utilized from the back of a vehicle or installed for
permanent or semi-permanent placement.
Utilizing CB Tech Nanomesh technology, the WaterSource offers microbiological purification in addition to mechanical and chemical filtration. Operated with a suitable pump (providing 20-60 psi, pump not included), the WaterSource can provide approximately 52 liters per minute of potable water.
Modular design allows for system expansion for increased water treatment volume, as well as easy filter replacement with minimal training requirements.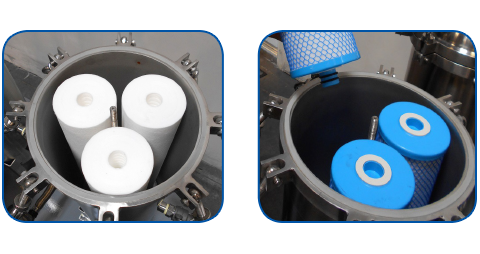 Model Name – WaterSource
Housing Composition – 304 Stainless Steel
Rubber Items – Silicone
Working Pressure Range:  – 20 psi (1.4 kg/cm2)
to 60 psi (4.2 kg/cm2)
Rated Flow Rate – 52 LPM
Rated Capacity Between Cartridge Changes – 136,080 Liters
For more information please contact us at 866.622.9373 or