Fast, Easy-To-Use, Dependable and Cost Effective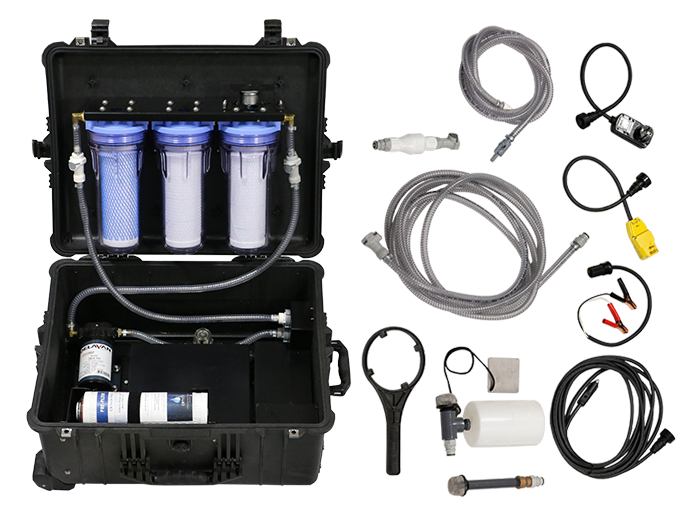 Built with CB Tech Nanomesh™ Technology, the WaterBox 2.0 is a fast, easy-to-use, dependable and cost-effective mobile water purification system. The WaterBox delivers pure, great tasting water in remote locations without the use of chemicals or heat.  It removes bacteria, virus and cysts to USEPA drinking water standards. It is tested to and compliant with NSF P248 standards.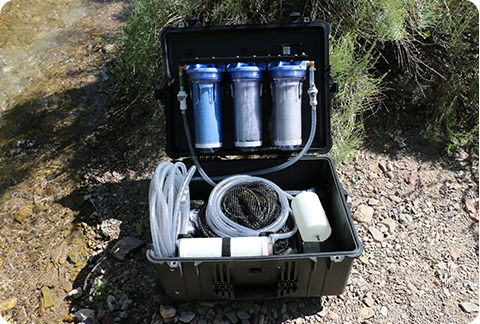 CB Tech's Nanomesh™ filters removes 99.9999% of bacteria, 99.99% of viruses, 99.9% of cysts and significantly reduces heavy metal (e.g. lead and cadmium)
CB Tech's Nanomesh™ and carbon block filters reduce sediment, chlorine, disinfection by-products (THMs and HAAs)

 

organophosphates (pesticides and herbicides), total organic carbon (TOC) and volatile organic compounds (VOCs) while preserving healthy minerals
Setup is less than five minutes with immediate purification using no chemicals and producing no wastewater
Lightweight, rugged casing and freeze damage resistant components ensure long service life
Hoses and cartridges are easy to clean and replace
Fresh cartridges provide a flow rate of 0.5 gpm
Multi-voltage power supply protects against overload, overvoltage and overheating. Adaptable to any field situation
Compatible with existing military solar options
Externally accessed water inlet/outlet connections as well as power source connections allow the system to operate with the case closed and sealed.

 

System contains all necessary components and accessories to operate the system as received, including a 25' water intake hose and electrical connections for either AC or DC power sources.
The WaterBox™ 2.0 includes a 12-month warranty to ensure the integrity, quality and performance of our portable water treatment system.
Dimensions – (Pelican 1610 case) 24.8"x19.7"x11.9"
Weight – Dry 23.13 kg (51 lbs), Wet 28.58 kg (63 lbs)
Flow Rate – 2.0lpm (0.5 gpm)
Prime – Self-priming up to 2.4 meters (8ft) Prime with check valve up to 6 meters (20ft)
Power Source – 12-24 VDC or 115-230 VAC (50-60 Hz)
Included Parts — Two CB Tech Nanomesh™ Stage II and four Stage I filter cartridges, 25' of 3/8" reinforced wire intake hose, 10' of 3/8" reinforced wire outlet hose, 12 VDC/24 VDC power cable, filter housing wrench, float with inlet pipe and anchor, inlet adaptor, nylon mesh component storage bag, 120 and 230 VAC GFI plug, 12 VDC cigarette lighter adapter, O-Ring Lubricant, one-way valve assembly and an operation manual.
Capacity – WaterBox™: 6,000 Liters (Includes 4 CB Tech's Nanomesh™ Stage 1 filters and 2 Stage 2 filters. WaterBox™ Reload kit: 15,000 liters (Includes 8 CB Tech's Nanomesh™ Stage 1 and 2 Stage 2 filters)  * Capacity dependent on quality of water source
For more information please contact us at 866.622.9373 or